The J58 (also JT11D-20A but NOT J-58) engine was developed in the 1950s by Pratt and Whitney Aircraft Division of United Aircraft Corporation to meet a U.S. Navy requirement. The engine was designed to operate for extended speeds of Mach 3+ and at altitudes of more than 80,000 ft. The J58 was the first engine designed to operate for extended periods using its afterburner, and it was the first engine to be flight-qualified at Mach 3 for the Air Force. Two J58s power the SR-71 as well as the YF-12A and most of the A-12s. In July 1976, J58 engines powered an SR-71 to a world altitude record of 85,069 ft. and another SR-71 to a world speed record of 2,193 mph. Because of the high-temperature environment in which the engine operates, it uses low-volatility JP-7 fuel which requires a chemical ignition system. This system uses Triethylborane (TEB) to ignite the fuel. The flash-resistant JP-7 fuel protects the SR-71 from the threat of inadvertent ignition as a result of the combination of high airframe and fuel temperatures during the hot portion of flight at high speed cruising.
J58 Specifications

| | |
| --- | --- |
| Compressor: | 9-stage, axial flow, single spool |
| Turbine: | two-stage axial flow |
| Weight: | Approximately 6,000 lbs. |
| Maximum Altitude: | Above 80,000 ft. |
Photos of the J58
Click on thumbnail to enlarge.
Please press 'Back' on your browser to return to this page.
How the Inlet System Works:
(Click on Image to Enlarge)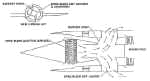 Diagrams from Air & Space Magazine